Synergyze for G Suite
05/03/17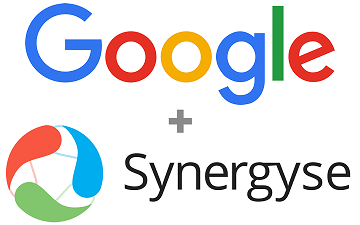 Become a G Suite power user! Synergyse is a Chrome extension that puts a virtual guide into Google Apps, training you to be productive and stay up to date with changes. Whether you are in Gmail, Calendar, Drive, or creating documents, Synergyse offers help, tips, and tricks for routine as well as advanced features as you work. Start your power-up today by adding Synergyze to your Chrome browser.
---
IRCE 2017
06/07/2017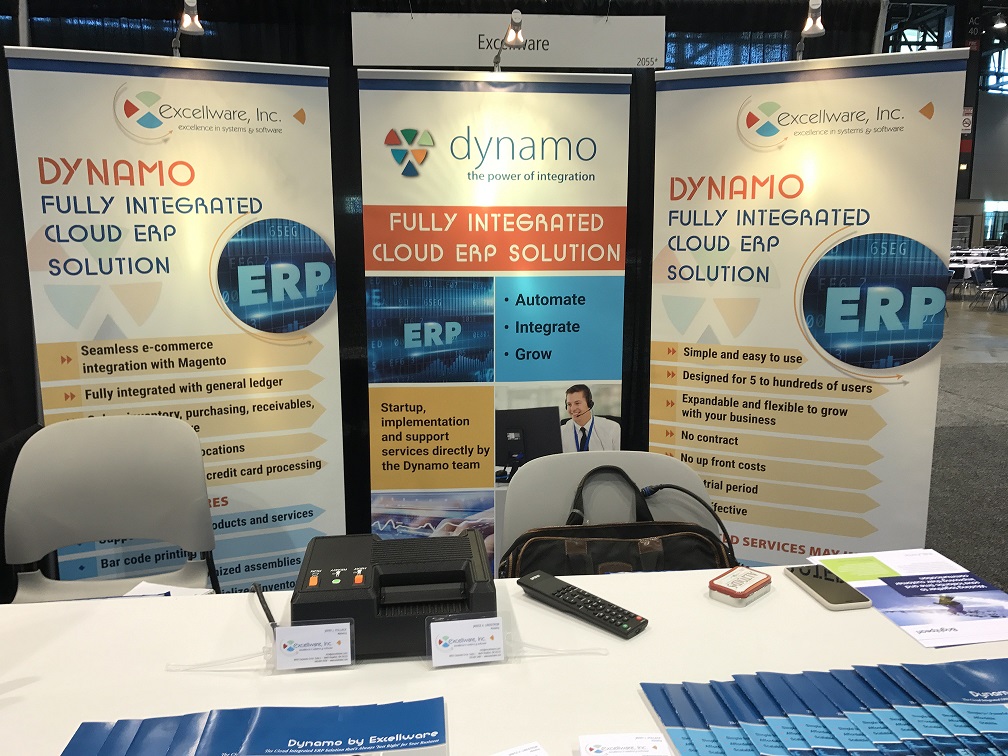 Our booth at the Internet Retailers Conference & Exhibition in Chicago this week. We'll be there until Friday. So if you will be in the area, please stop in and see us, say "hello", and pick up some giveaways. Thank you to all the terrific people who have stopped by, shared their business needs with us, and have allowed us the opportunity to see if we can fill those needs. We look forward to talking with you again!
---
December 2016
Contact Form Scams
See more
A contact form on your website can be a great way for potential customers to find out more about your products or services. It's also a potential route for scammers to make some cash off of unsuspecting business owners. Posing as someone with buying authority—such as purchase managers or government contractors—these charlatans will usually present an urgent scenario (such as a fire destroying their office) as a reason to purchase a lot of your products as soon as possible. But the deal will eventually go south. You might, for example, at some point be requested by the "customer" to pay shipping fees to one of their non-existent couriers to get them their order next day. If refused, these scammers may attempt to extort under the threat of negative online reviews or even legal action for not fulfilling your end of a changing bargain. Another scenario may involve you shipping products for which you never get paid.
Here are some things to examine to avoid these scams:
Is their email domain legit? If the sender's email is something like fbi.gov@yahoo.com, this should be seen as a red flag.
Does the company exist and have an active website? Most legitimate companies capable of making large purchases will have a website. Visit the site and check whether it has a lack of relevant content or looks hastily made.
Does the person work for who they say they do? Contact the company and find out. If they exist and have purchasing power at the organization, the human resources department will certainly be able to identify them.
Check spelling and grammar. For numerous reasons, many of these purchase requests originating from a "professional" will be rittled with spelling and grammatical errors.
Add a CAPTCHA to your website's contact form. Completely Automated Public Turing test to tell Computers and Humans Apart (CAPTCHA) is widely used to ensure that an actual human is performing actions on websites. Adding a CAPTCHA is free and usually very easy to achieve.
April 2014
CryptoLocker Virus Warning
See more
A new computer virus called CryptoLocker has recently been identified which could cause significant harm to companies and computer users. This virus attempts to encrypt common files (spreadsheets, documents, images, others) on infected computers and shared folders which the computers can access. Once encrypted, the files can neither be accessed nor recovered without paying a ransom. We don't suggest paying this ransom. 
Similar malware has been seen in the past but usually contained only idle threats. This one appears to do exactly as it claims, as it renders files inaccessible. But don't panic – you can take steps to avoid infection and safeguard important files.
General steps to protect your data and reduce exposure to malicious software:
Keep all Windows software up to date and and subscribe to automatic updates when possible.
Install an anti-virus product from a trusted source and schedule it to run automatically.
Make regular backups of important information. Back up to removable media such as tape or an external hard drive.  Better yet, ask us about Google Docs for Business, and never store an important document or email on your PC again.
Avoid opening attachments or clicking links in emails unless you know the sender and were expecting it.

Ask the person if you are unsure of its validity!

Use caution when downloading any files from the Internet
Run anti-malware and anti-virus programs regularly.
However, if you do become infected:
Immediately unplug your ethernet cable AND disable your wifi Internet access.
Turn off your computer. You may want to press and hold the power button to turn it off some cases.
Contact someone who can help identify and remove the problem.
Do not pay the ransom.
Click here for more detailed information about what this virus does. Click here for other general tips about avoiding or detecting malware.
---
May 2014
Excellware begins a monthly newsletter 
See more
Anyone on our email contact list will now be able to receive a newsletter sent out on the first Monday of each month. The newsletter will contain information about Excellware, Dynamo, and the computer world. We hope it will help you use our products more efficiently and easily. We also hope it will help our customers get to know us.
If you aren't already on our email list and would like to be, please click here.
---
April 2012
Excellware releases Dynaweb 11! 
See more
Dynaweb 11 makes it even easier for your customers to access Dynamo.  The configuration and login process has been simplified.  Any customer contact with an email address can login and...
View & Print copies of any invoice
View & Print a Statement of Account
Track shipments
View Qutoes & Order History
View all Serialized Item Purchases
and more.
---
September 2011
Excellware Now an Authorized Google Apps for Business Reseller 
See more
Excellware can now assist your company take advantage of Google Mail, Documents, Spreadsheets, Presentations, Drawings, Sites, and more. We transitioned internally to Google Apps for Business earlier this year and are now providing implementation, data migration, training, and support services.
Ask Excellware how to you can save time & money with Google Apps for Business!
---
August 2011
Excellware releases Dynafax!
See more
Priority Support Customers can now fax purchase orders, quotations, sales order acknowledgements, copies of invoices, statements of account, and more, right from Dynamo without any third-party software, without a fax modem, even without a phone line.
There is no charge for local or long distance fax calls to the United States and Canada and of course the software is free to all Priority Support customers!
---
July 2011
Excellware Releases Dynastore! 
See more
Dynamo now automatically archives all reports printed in pdf format to the cloud. You no longer need to save a printed report in paper form, or on your workstation, or on the Dynamo server. You don't need to worry about disc or backup tape capacity. The reports are securely stored redundantly and easily accessible to authorized users right from the Dynamo menu.
Dynastore is free with no storage charges through August 2012, so give Dynastore a test drive today!
---
June 2011
Excellware Releases Dynastart! 
See more
Dynamo can now be launched using only a web browser without requiring any pre-installed software on a PC, Mac, or Linux workstation other than Java.  In wide screen mode, Dynamo now supports even more rows and columns to further reduce the number of keystrokes required to find that item, customer, vendor, or order.
Simplify your Dynamo deployment and save money with Dynastart!
---
February 2011
Excellware Adds PCI-Compliant Credit Card Processing!
See more
Excellware releases new integrated fully Payment Card Industry (PCI) compliant credit card processing within Dynamo.  Process credit card payments in seconds using magnetic stripe readers or manually entering cardholder information.
Improve your customer checkout experience with Dynamo fully integrated credit card processing!
---
January 2011
Excellware releses Dynamo 11!
See more
Fully re-designed Sales Order Processing & Point-of-Sale applications that are even easier to use, more flexible, and quicker to get at the information you need.
---
Dynamo 11 ••• "Rock Solid" Performance!

Dynamo is our flagship Enterprise Resource Planning (ERP) software that helps people better manage their businesses. It addresses all aspects of your organization, from prospecting to Customer Relationship Management (CRM), from purchasing to paperless warehouse operations, from sales order processing to sales analysis, and from accounts payable to financial statements.  It's applicable for businesses with 3 to 3,000 employees with 1 to 1,000 locations, and it might be just right for you.
So if you've outgrown that software-in-a-box and don't want to spend six figures implementing one of those high-end products, take a look at Dynamo.
Quick Google-like item searching — just enter what you know and Dynamo will find it
Instant new customer creation with automated name & address lookup by telephone number
Automatic address verification including Zip+4 lookup
Integrated credit card processing, fully compliant with Payment Card Industry (PCI) rules
Colorful sales charts showing sales, margin, and more over last 13 months and last 13 years
Print, Fax, Email, or PDF Order Acknowledgements, Notifications of Shipment, Invoices, & more
Hand-held scanners for all warehousing operations from put-away to physical inventory
Printable item box labels or item price stickers
Printable deposit slips for quicker and more accurate banking
Extensive drill-down capabilities in Inquiry and Order Processing
Shows most recent transactions first, yet quickly access all older transactions
Display, not paper centric; quit wasting all that paper and time
Month-End updates that only take seconds to run
Windows XP Support Has Ended

Microsoft support for Windows XP ended on April 8, 2014, which means that technical assistance, security patches, bug fixes, and Microsoft Security Essentials downloads will no longer be provided for Windows XP by Microsoft.
Microsoft states, "If you continue to use Windows XP after support ends, your computer will still work but it might become more vulnerable to security risks and viruses. Also, as more software and hardware manufacturers continue to optimize for more recent versions of Windows, you can expect to encounter greater numbers of apps and devices that do not work with Windows XP."
For that reason, if you are still on Windows XP, you will want to consider upgrading your PC to a Windows 7 or 8 computer. If you click here, you will find our quoted prices on some recommended desktop PCs you can order from us. If you click here, you will find our quoted prices on some recommended laptops you can also order from us.
Web Content Filtering
Excellware has partnered with 
OpenDNS
 to provide Enterprise Network Security for your office and mobile devices. 
This comprehensive umbrella service provides:
blocking connections to malicious websites to prevent infections
blocking phishing websites from stealing your users' login credentials
blocking access to time-wasting websites based on category, i.e, gaming, chat, gambling, illegal activities, etc.
creating and maintaining multiple web site access policies for each of your departments or locations
receiving daily email reports including attempts to access blocked sites
protection for mobile devices including laptop computers and smart phones
If you are interested in implementing enhanced network security at your office, please contact Mike Jarvi.
Dynamo Credit Card Integration

With Dynamo integrated credit card processing, you do not need dedicated credit card processing devices or phone lines.
You can create a quicker and better customer experience and obtain the best rate by using a card reader when your customer presents a card in person. Dynamo works with the reader so you don't have to manually enter the card number, expiration date, or card holder's name.
Dynamo also protects your customers' data by never storing credit card information.
Please view our Credit Card Processing page to learn more about your options for integration.
New Dynafax Improvements for Priority Support Customers!

Dynafax will now send an email directly to the sender when a fax is not delivered.  Dynafax tries 3 times in case the line is busy.  You can also request an email even when the fax is successful.  These notification emails also include a copy of the original fax.
Note that the sender's email address is now required to be set in My Profile & Preferences.  The company web address is also required to be set in Company Information Maintenance.  Note that only email addresses that include the company domain name, i.e., the part after the @, can send Dynafaxes.  For example if your company web address is www.goodforyou.com, then the senders email must include @goodforyou.com.  An email such as @gmail.com or @yahoo.com cannot be used with Dynafax.  Contact Excellware to create new email addresses as required.
And just like before, you don't need to wait by the fax machine to send your invoices, purchase orders, order acknowledgments, statements of account, etc. -- you don't even need a fax machine. Just select "Dynafax" when prompted for a printer selection. After specifying a recipient, Dynamo does the rest of the work for you. 
New Partnership With RingCentral!
6/08/15
Excellware is excited to offer its customers the ability to migrate their existing phone servers to the cloud with RingCentral. This means there is no longer a need to have a physical server on-premise for computer-based phone systems. You can now simply connect your existing IP phones, computers, and even smart phones to the internet and begin managing all of your company's communication needs online with minimal setup time.

Other features:

Integration with employer- OR employee- provided cell phones, tablets, laptops and desktops

Business phone, text messaging, and faxing capabilities across devices

Phone and video conferencing across devices

Greater cost-control as you pay a flat rate for service.

Monitor usage statistics with custom reports

Change user settings on-the-fly at the administrator level and allow individual users to change their own settings as needed

Inbound 800 numbers available so customers can contact you toll-free

Transfer your existing phone

numbers to RingCentral with ease

Scalable based on the size of your business
View the demo page to get an inside look of how your RingCentral system can be managed.  Also watch the overview and ease-of-management videos and discover some of the other exciting features RingCentral has to offer!  Contact us when you are ready to learn how we can implement RingCentral at your organization.
Excellware Offers Web Content Filtering to Businesses
9/18/15
Are websites like Facebook, YouTube, and Pandora, creeping into your workplace for personal use?  Many businesses are finding this to be a reality, and one that can slow productivity and resources when in excess.  Aside from stealing employees' attention away from their tasks at hand, these sites can also bog down your internet speed for other users.  Other than constantly looking over everybody's shoulders, what options exist to curb this phenomenon? Excellware offers an internet traffic monitoring service as a very simple solution to your woes. You choose the specific sites, or types of sites, that should not be accessed on your company's internet.  When attempts are made to access these sites, an "internet roadblock" is immediately deployed, preventing access.  Simple!  And no further action is required by you. As usual, you can  contact Excellware to learn more about the service and how we can get you started.
Excellware Business Email Offering Nearly Hack-Proof
10/26/15
Excellware has partnered with Google to be able to bring your business apps such as Gmail with its 2-step verification process. By turning this option on, Google will still prompt you for a password, but will also require you to enter a single-use code sent to your mobile phone. For convenience, after the first login, you can turn it off for computers you use often such as those at work or home. Any other computers across the world would still need the code sent to your phone. So even if they find out your password, they will still be unable to get access to your email and documents. Find out more about 2-step verification, and contact Excellware if you have any questions or would like to get started with Google Apps for Work.
Excellware Phone Solution Minimizes Barriers of Change
11/20/15
It can be alarming to suddenly realize your current phone system is rapidly becoming outdated or will continue to drain your operating budget until funds are available for an alternative. Not only can new phone systems require a large financial injection, but installation requires downtime and your workforce needs time to adapt. Excellware has partnered with RingCentral, who has a track record of being able to minimize all of these barriers to switching. RingCentral is designed to work with your current internet connection, requires no expensive on-site servers, and both Excellware and RingCentral are there to help you through implementation, training, and beyond. If a new phone system is on your horizon, or you just have questions, contact Excellware to start a conversation about the benefits of RingCentral and how we might get you started.